Isotonix Vitamin C
Earn $0.65 ma Cashback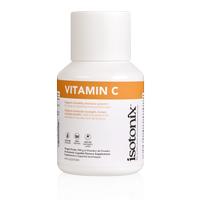 Product Information
What Makes Isotonix™ Vitamin C Unique?
Vitamin C plays a significant role in a variety of metabolic functions. It strengthens the immune system. It helps in the synthesis of collagen, which strengthens the cardiovascular system. Low intake of vitamin C is common in the United States and should specifically be addressed by the elderly.
Vitamin C, justifiably so, has become the world's most popular vitamin. The reasoning behind this vitamin's grand reputation is at once multi-faceted as well as amazing. The bodily functions promoted by this vitamin create an extensive list.
Ascorbic acid is best known for its antioxidant properties. Ascorbic acid may be the most important water-soluble antioxidant in the body.
The capacity of Vitamin C to support the immune system seems to be common knowledge. In support of an elevated vitamin C intake, an expert scientific panel recently recommended increasing the current RDA for vitamin C from 60mg to at least 100-200mg per day. Next, vitamin C may promote normal pulmonary health. Part of the protective action of vitamin C appears to be due to its antioxidant properties. Finally, some studies suggest that vitamin C supplementation will help to maintain healthy vision.
Vitamin C helps support cardiovascular health in a few different ways. It assists in promoting normal levels of cholesterol and normal blood pressure and promotes normal platelet activity. It also promotes healthy triglyceride levels. Vitamin C protects against LDL peroxidation by scavenging free radicals. Vitamin C helps maintain endothelial cell function by promoting the synthesis of nitric oxide (also known as NO and EDRF for endothelium-derived relaxing factor).
As mentioned above, vitamin C helps preserve intracellular reduced glutathione concentrations. This activity likely helps maintain nitric oxide levels and potentiates its vasoactive effects, helping to maintain the integrity of blood vessels.
Vitamin C may promote normal modulation of prostaglandin synthesis, which in turn promotes normal vasodilatory activity. As observed above, vitamin C helps maintain nitric oxide levels and supports its ability to preserve the integrity of the blood vessels. There is an indication that vitamin C supports endothelial-dependent vasodilation.
Vitamin C plays a crucial role in maintaining healthy connective tissues including collagen, elastin, fibronectin, proteoglycans, bone matrix and elastin-associated fibrillin. Also, a lack of vitamin C can cause general fatigue. Next, vitamin C helps moderate healthy iron absorption, transport and storage. It promotes the normal intestinal absorption of iron.
Vitamin C is a water-soluble vitamin that should be taken daily in addition to the MultiTech and Isotonix™ Antioxidant.
Related terms: vitamin c, ascorbic acid, collagen, free radicals
Primary Benefits of Isotonix™ Vitamin C:
Helps to maintain eyesight, skin, membranes and immune function
Maintains good health
Aids in wound healing, and in the normal development and maintenance of bones, cartilage, teeth and gums